This Thursday is D-C's BWW Spirit Challenge!
This Thursday is D-C's Buffalo Wild Wings Spirit Challenge. All proceeds raised will help off-set prom tickets! BWW will donate 15% of all food sales. We will be selling wings during lunch hours-5 for $3.00 and please eat at the Algonquin and Hoffman Estates locations.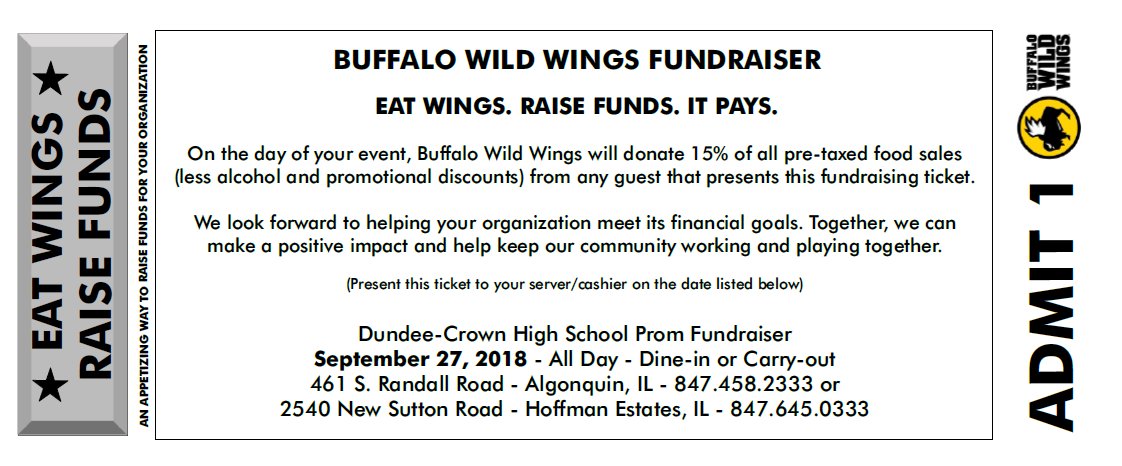 9/27/2018 8:30 PM
D-CHS Athletic Event Procedures Reminder
As a reminder, Dundee-Crown High School implemented the following changes to policies and procedures regarding its athletic and event facilities. These changes were made in keeping with safety and security as our top priority, as well as to provide the best experience for community users of our facilities.
D-CHS Event Expectations (for all attendees at extracurricular events)
No outside food or beverages will be allowed.
Bags/purses are subject to search.
No re-entry allowed once exiting the facility (you must re-pay to re-enter)
Elementary and middle school students need to have a parent in attendance with the student to enter the Stadium or any other competition site
No footballs, soccer balls, basketballs or any other sporting equipment are allowed in the Stadium, or any other competition site, thus no game play or horseplay is allowed
Gates will open at 4:30 p.m. for football games
Good sportsmanship is an expectation on, and off, the field.
Go Chargers!
10/27/2018 12:12 PM